To date, more than 8 million cases[1] of COVID-19 have been confirmed worldwide – overwhelming radiologists, technologists, and physicians.
As the spread of the virus stabilizes in various parts of the world, clinicians continue to need tools to help manage new cases and complications caused by the virus – including pneumonia and acute respiratory distress – which have further increased pressure on radiologists to quickly read imaging exams.
"The pandemic has proven that data, analytics, AI and connectivity will only become more central to delivering care," says Kieran Murphy, President & CEO, GE Healthcare.
"Clinicians are looking for clinically proven methods to help identify symptoms early and determine which patients are at higher risk of complications and need to be actively monitored," adds Professor Fergus Gleeson, Consultant Radiologist, Professor of Radiology at the University of Oxford, and the 2020 President of the European Society of Thoracic Imaging. "AI can help identify these distinctions and enable hospital resources to be targeted to those that will need them whilst in hospital and following discharge."
In response to this, GE Healthcare recently introduced its Thoracic Care Suite, a collection of eight artificial intelligence (AI) algorithms from Lunit INSIGHT CXR[2] to help alleviate clinical strain due to COVID-19. The AI suite quickly analyzes chest x-ray findings and flags abnormalities to radiologists for review, including tuberculosis as well as pneumonia, which may be indicative of COVID-19 – a key cause of mortality in patients who contract coronavirus.[3]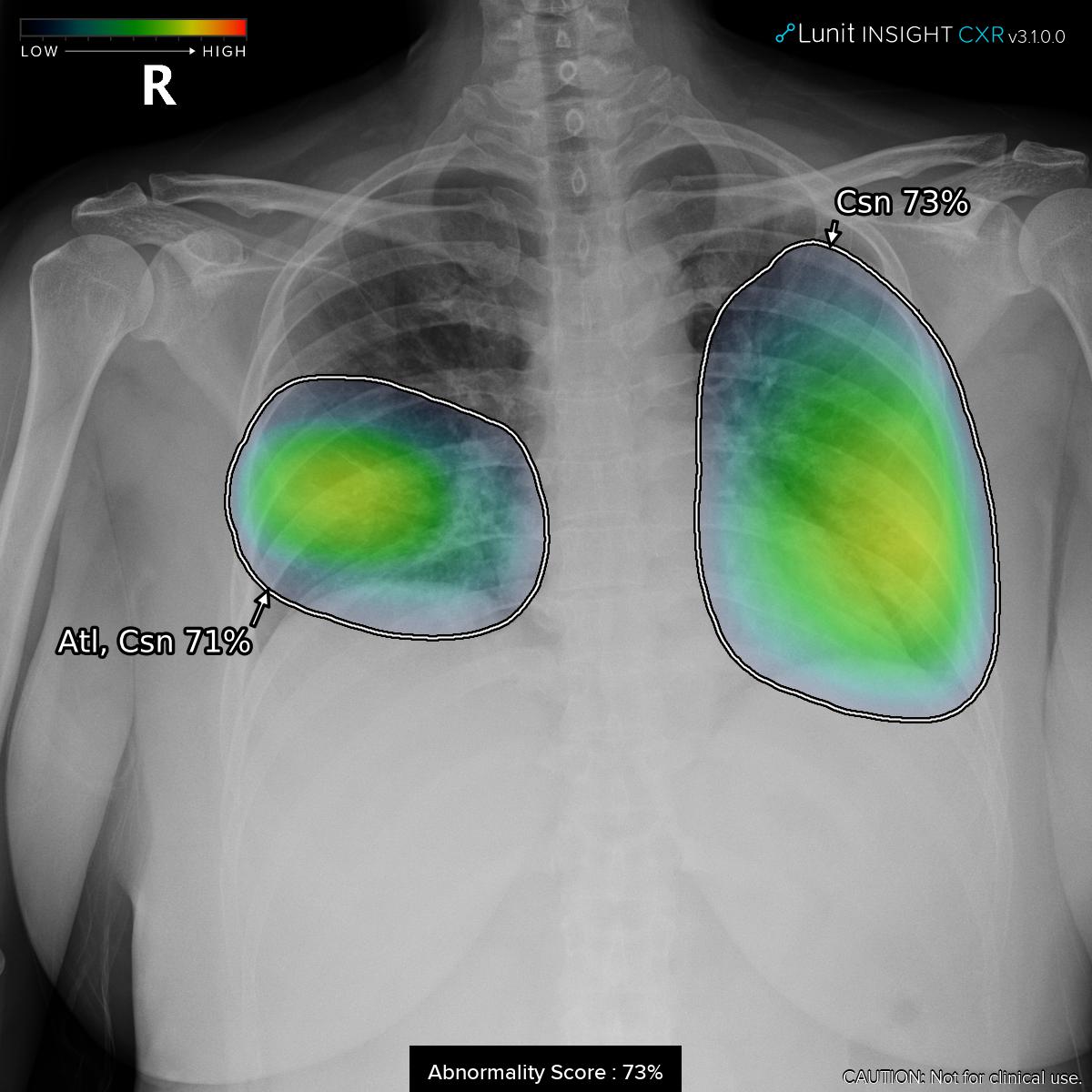 "The launch of our Thoracic Care Suite is a part of GE Healthcare's larger effort to help ensure clinicians and partners on the front lines have the equipment they need to quickly diagnose and effectively treat COVID-19 patients," adds Murphy. "For GE Healthcare, that means continuing to advance intelligent health and providing innovative technologies. This new offering is the latest example of how X-ray and AI can uphold the highest standard of patient care amidst the most modern of disease threats."
To provide more information on this collaboration and the AI technology, we sat down with Brandon Suh, CEO of Lunit and Katelyn Nye, General Manager, Global Mobile Radiography & Artificial Intelligence to learn more.
Q: What motivated the collaboration between Lunit and GE Healthcare?
Brandon: After launching the company in 2013, we met several members of the GE Healthcare team at the 2015 Radiological Society of North America's (RSNA) annual meeting and something clicked – we got along very well and had similar visions for the future of AI. So, when the opportunity came up to collaborate and make our AI available with a market-leading vendor like GE Healthcare – especially as part of the Thoracic Care Suite – it was a significant opportunity to deliver our solutions to various customers within GE Healthcare's install base and bring us all one step closer to embracing AI as a part of today's standard of care.
Q: How is this technology being used to alleviate clinical strain due to COVID-19?
Katelyn: With approximately 1.44 billion chest x-ray exams taking place each year[4], radiologists are overwhelmed, especially as they may be looking for multiple indications per exam.
Thoracic Care Suite provides much needed support by automatically analyzing images for the presence of pneumonia indicative of COVID-19 – as well as seven additional chest x-ray abnormalities – and providing much needed support to help quickly identify high-risk cases as well as monitor patients' respiratory symptoms.
Additionally, it supports atelectasis, calcification, cardiomegaly, fibrosis, mediastinal widening, lung nodule, and pleural effusion detection. By automatically flagging these abnormalities to radiologists for review, the AI suite helps radiologists quickly diagnose and effectively treat patients as well as manage hospital capacity – an important consideration during this COVID-19-era.
Q: What excites you most about AI's potential in the future?
Brandon: The beauty of AI is in its ability to process vast data and come up with a pattern--a task that has its limits to humans in terms of time and energy. With proper guidance and control, AI can show superhuman abilities, conducting tasks accurately and efficiently, even perform tasks that go beyond human level such as predicting treatment response and outcomes, etc. We believe this technology can open a new door of medical practice.
Katelyn: Like Lunit, we are committed to developing and providing AI solutions to help patients and alleviate our customers' most pressing challenges. We are just at the beginning of a long future, in which AI will become an integrated piece of x-ray radiology workflow – GE's Critical Care Suite and Thoracic Care Suite are simply the pioneers.
During a significant moment in medical history, the collaboration between GE Healthcare and Lunit is one of the first of its kind to bring commercially available AI products from a medical AI startup to an existing X-ray equipment manufacturer.
For more information on GE Healthcare's Thoracic Care Suite and COVID-19 solutions, visit gehealthcare.com
---