GE Healthcare's Edison Design System won a Red Dot for Interface Design in the Brands and Communication Design category. The origins of the Red Dot Design Award dates back to 1955. Its distinction, the Red Dot, is established internationally as one of the most sought-after quality marks for good design. From products, brand communication and creative projects to design concepts and prototypes, the Red Dot Award documents the most prominent trends worldwide.
Edison Design System
Healthcare is increasingly based on intelligent software. With more than a century of history and hundreds of products sold in more than 100 countries, GE Healthcare's product user interfaces (UI) did not all function the same or represent a unified, modern brand.
Queue the Edison Design System at EdisonDesignSystem.com. Launched in early 2020, it offers validated, reusable software design specifications and plug and play code. The system unifies user experience (UX) across GE Healthcare and partner software, and evolves the company to common, modern software approaches. Since GE Healthcare's products are used in varied lighting conditions and physical spaces, such as emergency rooms, operating rooms, radiology reading rooms, offices and intensive care units, Edison Design System supports workstations, embedded hardware, screens of all shapes, sizes and resolutions, cloud and mobile. It is supported by a global review and adoption community of over 2,000 designers and developers helping the system see rapid adoption by dozens of initiatives in the first six months.
"In creating Edison Design System, we focused on design craftsmanship. This system is used for healthcare applications that help save lives, so we needed to get the details right," said Beverly May, Vice President of User Experience for GE Healthcare.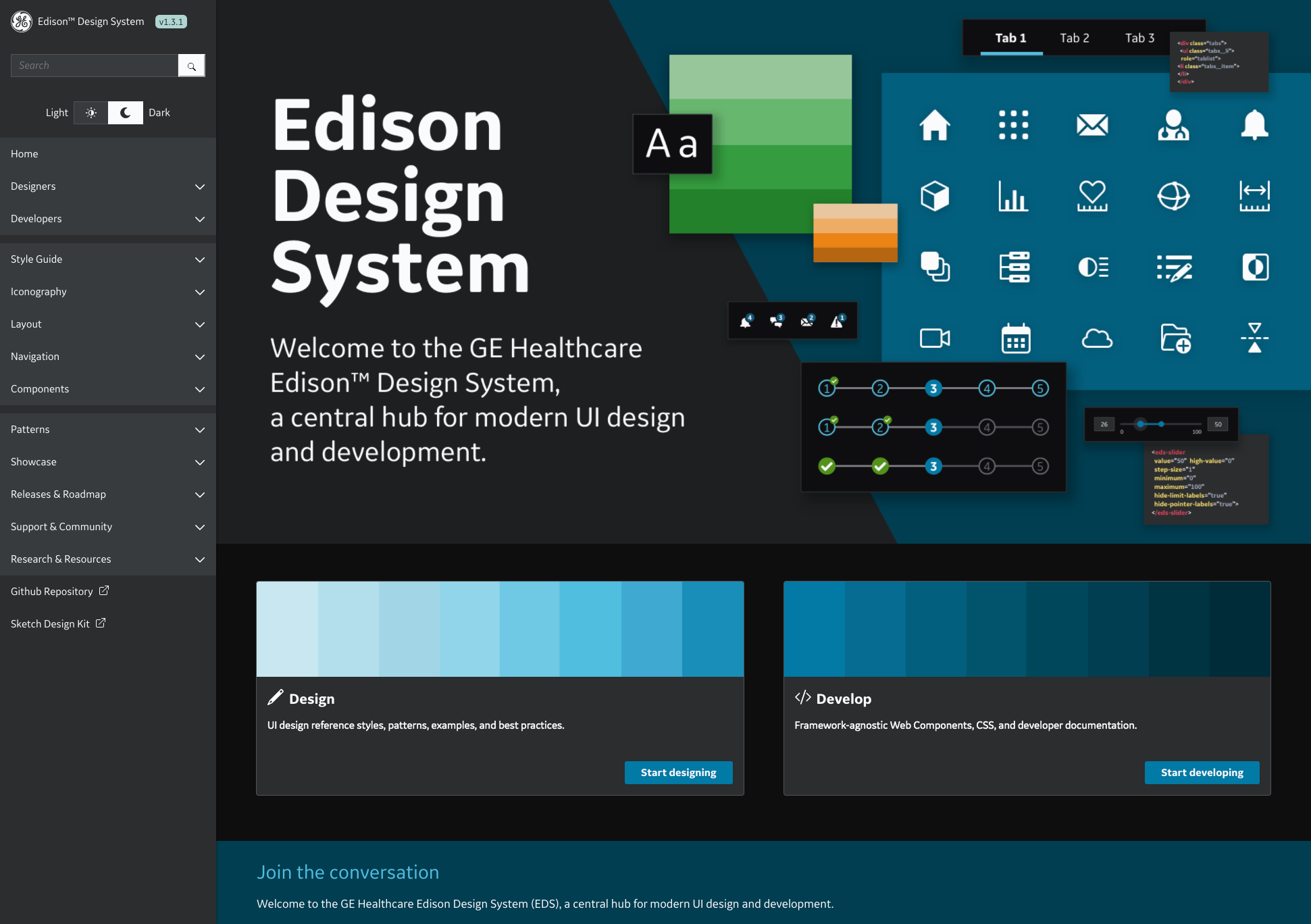 Edison Design System offers far more than a static library; it aims to significantly improve healthcare software usability, while providing significant engineering and design operational efficiency by focusing on best-in-class designs and execution consistency across the product portfolio. For example, the masthead and navigation component provide a standardized but highly customizable approach to unified, clear navigation that can be used in any product on the top, left or bottom of the layout and across mobile, desktop and tablet, in condensed or expanded modes. Unified navigation is essential to harmonizing GE Healthcare's offerings as a suite. Additionally, the step-by-step wizard is a highly flexible component that ensures intuitive and clear process consistency for guided workflows, which are often used in specialized applications for cardiology, neurology, and other areas. Finally, the toolbar provides a universal toolset for manipulating and annotating images, like Adobe Photoshop or other consumer image editors.
5 things differentiate the Edison Design System:
Quality craftsmanship: Every component has detailed designs, examples, code and redlines.
Magnitude and complexity: The system features more than 900 icons, 400 code snippets and 200 design specifications designed for mobile apps, wall displays and regulated medical device UIs of all sizes for both light and dark rooms.
Healthcare Focus: The system is tailored for healthcare with components like a standardized patient banner, medical specialty icons, artificial intelligence image guidelines, and a custom color palette.
Plug and play code: Three levels of platform code, three themes, and responsive sizing support applications for medical offices, ICUs, surgery, radiology and more.
User and community validated: Every aspect is validated by over 100 user studies and feedback sessions for intuitiveness, legibility and accessibility.
Red Dot Design Award
High-quality, effective and impactful – these are the attributes shared by the brands and projects that impressed the 24-member Red Dot jury. The experts convened in Essen at the end of July to assess the entries to the Red Dot Award: Brands and Communication Design 2020. This year, designers, agencies and companies from 54 countries entered 8,697 brands and communication design works in the competition. In 2020, the Red Dot was awarded to 696 projects, meaning less than ten percent of the brands and works entered in the competition received an award. "Winning over the Red Dot Jury is no easy task. Our experts are very critical and inspect all of the entries very closely based on strict criteria before reaching a decision regarding a distinction," explains Professor Dr. Peter Zec, founder and CEO of the Red Dot Award. More information is available at www.red-dot.org/cd.