New intelligent applications and smart devices built using GE Healthcare's Edison intelligence platform help improve radiology efficiency and enhance patient care.
It's no secret that Artificial Intelligence (AI) is poised to make a powerful impact on patient care and healthcare operations.
At the 2019 annual meeting of the Radiological Society of North America (RSNA) in Chicago, AI is again the hottest topic at the show. An entire floor is dedicated to the ever-expanding AI vendors and sessions feature a full slate of speakers showcasing emerging AI technologies and trends.
This year, GE Healthcare introduced several new intelligent applications and smart devices built using Edison™, our secure intelligence platform unveiled at RSNA 2018.
Edison helps GE Healthcare and select strategic partners design, develop, manage, secure and distribute advanced applications and AI algorithms quickly. These new solutions are designed to make data, insights and clinical context more accessible and actionable across the health system, creating new value for providers and patients – from reducing costs and complexity to increasing the speed and accuracy of diagnosis.
While each of the new applications targets specific challenges that radiologists face, they're all grounded in making the solutions easier for clinicians to use. With intuitive, problem-first applications, the tools help clinicians be more efficient and better serve their patients by integrating seamlessly into their existing workflows.
A new era of deep-learning image reconstruction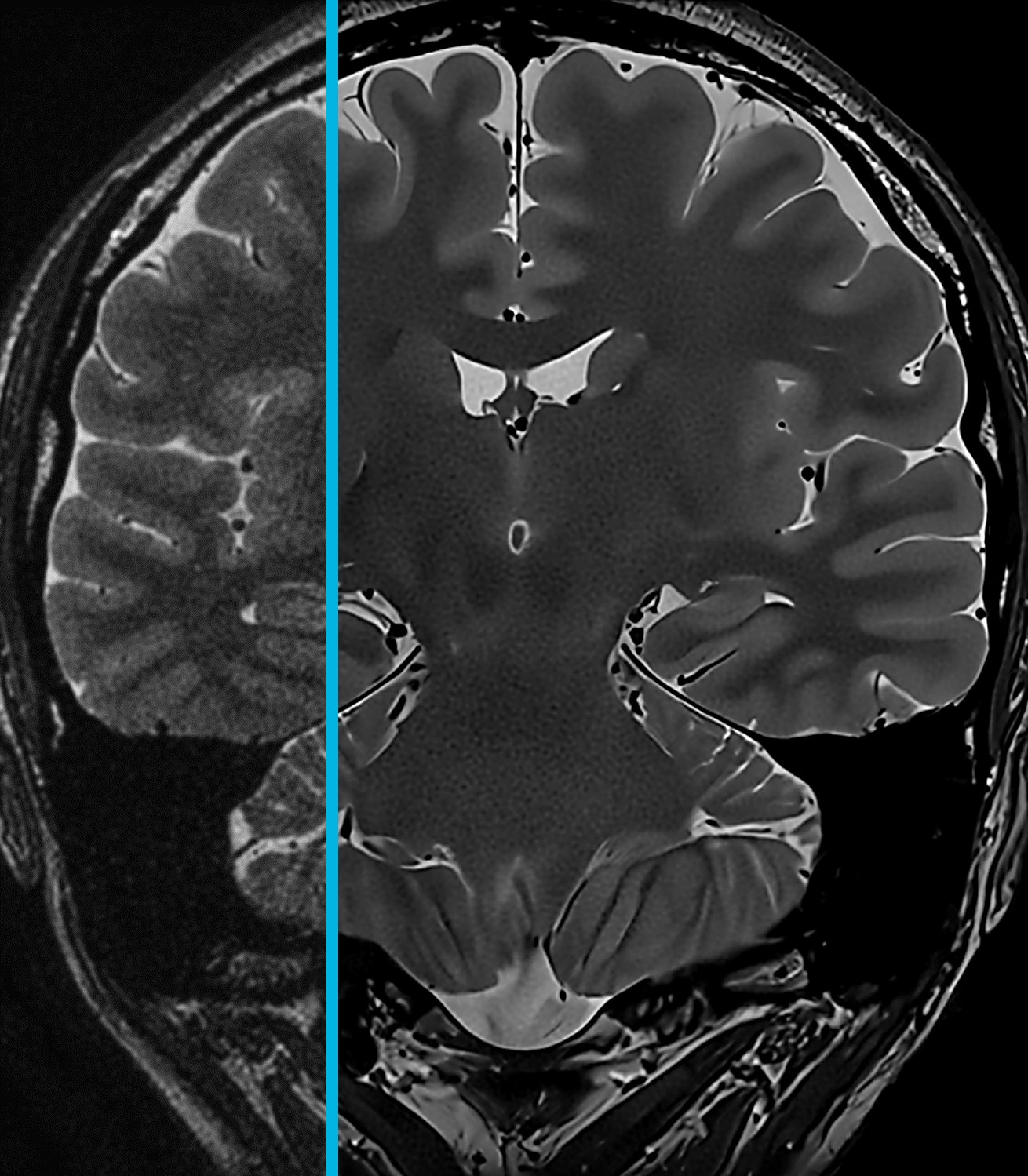 In MR, there is an inherent compromise between image quality and scan time. Now with AIR™ Recon DL[1]*, clinicians and technologists will no longer have to make that compromise. It introduces a deep learning-based reconstruction technology designed to improve signal-to-noise (SNR) and image sharpness to enable shorter scan times.
It's designed to utilize advanced neural networks, or deep learning algorithms trained from a database of tens of thousands of images, to identify and remove image artifacts, allowing users to optimize images and improve clinical diagnostics.
Pascal Roux, a radiologist at Centre Cardiologique du Nord (CCN) in Paris, one of the first global clinical sites to evaluate a prototype version of AIR Recon DL, says that Air Recon DL can help improve SNR and image sharpness, which can enhance spatial resolution, as well as help remove some artifacts or help reduce acquisition time.
"I can have the best of both worlds. I don't have to choose between improving the quality of the exam and shortening the exam time," he says.
AIR Recon DL also improves workflow. If Dr. Roux's department can increase the number of exams even by a fraction each hour, the cumulative result at the end of the day could be significant. With a three-exam-each-hour schedule, Dr. Roux believes it is possible to add five to six more patients in a 12-hour day.
Preserving healthy tissue with AI
Embolization procedures, such as those in the brain and prostate, can be incredibly complicated due to the highly complex vasculature of the structures and the surrounding critical organs. Embo ASSIST[1] with Virtual Injection is designed to help clinicians confidently perform these complex embolization procedures.
Embo ASSIST is designed to allow clinicians to analyze the vasculature and simulate injections dynamically to help determine the embolization strategy to avoid embolizing healthy tissues with just one click.
By leveraging data from GE Healthcare's 3D HD CT images, Embo ASSIST with Virtual Injection provides clinicians with an intuitive solution to support clinical decision-making and driving efficiency in the interventional suite enabling precise, minimally invasive therapies.
With this, clinicians use image guidance technologies to their full potential while providing high-quality patient care and delivering precise therapies that support positive clinical outcomes
Orchestrating AI to improve workflows
Edison™ Open AI Orchestrator is designed to orchestrate AI at scale for imaging workflows. It simplifies the implementation, deployment, support and scaling of multiple AI applications, including ones from partners iCAD and MaxQ, to seamlessly integrate clinical applications into the radiology PACS reading workflow. With this new offering, Edison Open AI Orchestrator can help reduce the complexity of multiple systems and algorithms working together, potentially leading to fewer errors.
By orchestrating which algorithms are run on which exams and in which sequence or timing, the system is able to efficiently manage and automate AI and non-AI based enabled processes encompassing imaging workflows on one or more DICOM devices from GE Healthcare and third-party vendors. Through uniform and seamless integration with GE Healthcare's PACS, there are no additional clicks or user experiences (UXs) to learn and control, creating a unified UX for radiologists to use AI.
Ultrasound powered by AI
The LOGIQ™ E10 ultrasound system integrates AI, advanced tools and enhanced workflow capabilities to enable clinicians to scan, diagnose and treat a wide range of patients across a broad spectrum of conditions.
One of its newest applications, Breast Assistant, powered by Koios DS™, automatically provides an AI-based quantitative risk assessment that aligns to a BI-RADS category. The results are available in two seconds or less, providing decision support for the clinician and helping improve consistency across the department.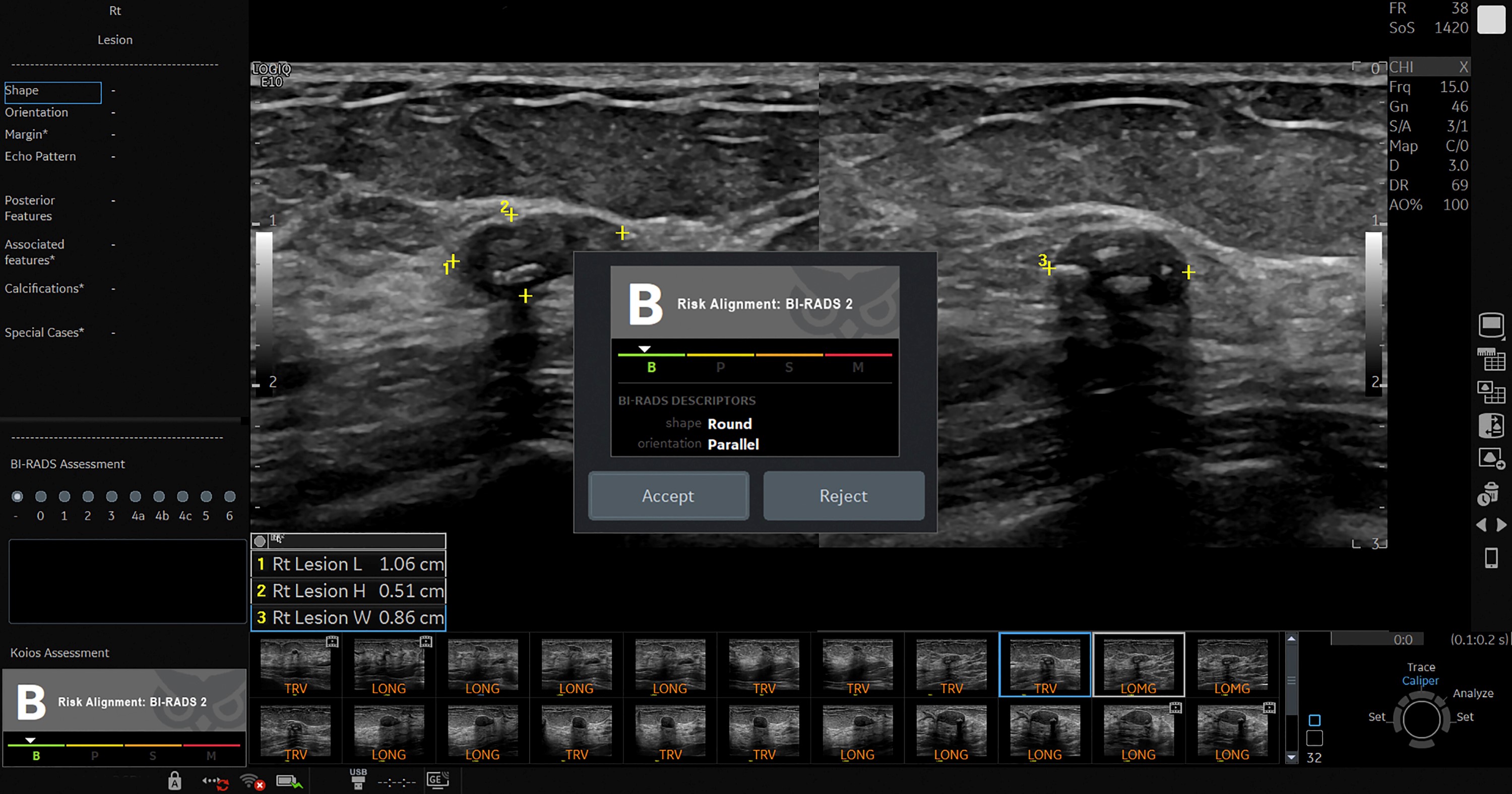 Making AI feel "invisible"
As healthcare enters a new era defined by AI, the industry must consider not just the technologies that make up our AI solutions, but how they implement these tools. That means developing technology fully integrated with AI from the beginning, embedded into systems and software so it's a seamless clinical experience.
In this way, AI will be an invisible technology, powering breakthroughs in workflow optimization to help radiologists maximize productivity and save lives in the moments that matter. By making AI feel invisible and delivering unbiased data science that's integrated straight into workflows, the industry can deliver greater impact.
To build an ecosystem of technology, academic and clinical knowledge, it must start with the clinicians who use these systems every day. Partnering with clinical experts at academic institutions and leading healthcare facilities around the world to help understand radiologists' workflows and pain points – as well as some of the leading technology providers – there are infinite opportunities to apply this powerful technology and drive better outcomes.
[1] 510(k) pending at FDA. Not available for sale in the United States.
Update on May 27, 2020 — 510(k) approved by the U.S. FDA.
[2] Embo ASSIST solution includes FlightPlan For Embolization, Vision 2, VesselIQ Xpress, Autobone Xpress and requires AW workstation with Volume Viewer, Volume Viewer Innova. These applications are sold separately. Not available for sale in all regions. FlightPlan for Embolization is 510(k) pending at FDA. Not available for sale in the United States.